---
---
---
Guide Sections:
---
Common Jobsite Hazards
In this section, we will briefly discuss some of the common hazards you may find on the jobsite.
Slips, Trips and Falls.
---

---
Controls required could include:
Tape or secure exposed power cords, cables, or other wires.
Practice good housekeeping - keep floors clean and free of tripping hazards.
Replace or repair damaged walking surfaces.
Use sand, gravel, or other material for traction on snowy or icy surfaces.
Post warning signs near wet, icy, or slippery surfaces.
Use the fall protection hierarchy

(WorkSafeBC website)

when working at heights.
---
Physical Hazards
---

---
Physical hazards cover a wide range of situations. Common examples include:
Heavy lifting
Forceful pushing or pulling
Injuries from being struck by mobile equipment
Use of power tools
Injuries from site clutter, collapsed or unsafe structures
Sharp objects, edges or tools.
---
Mechanical Hazards
---

---
Include situations that involve:
Mechanical or mobile equipment
Situations where a person could be crushed or cut by moving machinery
Missing machine guards that would prevent contact with rotating or moving parts. (DO NOT remove or bypass guards!)
Presence of pressure lines
Working in underground situations such as excavations or wells.
---
Electrical Hazards
---

---
The electrical hazards category includes exposed panels or wires, overhead or underground wires, or the presence of water.
Be sure you know how to work safely near electricity.
Pay attention to spills and wet areas around electrical equipment and power lines.
Have damaged electrical equipment repaired.
Before using electrical equipment, check that power cords and switches are working properly.
Be especially careful when working in electrical rooms or near electrical panels.
When working outdoors, inspect the area thoroughly for overhead power lines. Ensure work procedures will not bring you or co-workers in close proximity.
---
Chemical Hazards
---

---
The electrical hazards category includes exposed panels or wires, overhead or underground wires, or the presence of water.
Be sure you know how to work safely near electricity.
Chemicals can be present as solids, liquids or gases.
Chemicals can have many hazards - they can be toxic, flammable, corrosive, reactive, etc.
To help you use these products safely, use the information on the product labels and material safety data sheets (SDSs).
If you find chemical hazards, or if you find a chemical but you don't know what it is, be sure to investigate and find the safe work practices you need to follow.
Learn more about the Workplace Hazardous Materials Information System (WHMIS 2015) and SDS. Visit:

Important:
Chemical and biological hazards are not always easy to spot. Check the WHMIS 2015 labels and SDSs to help identify chemical and biological hazards.
---
WHMIS 2015 Labels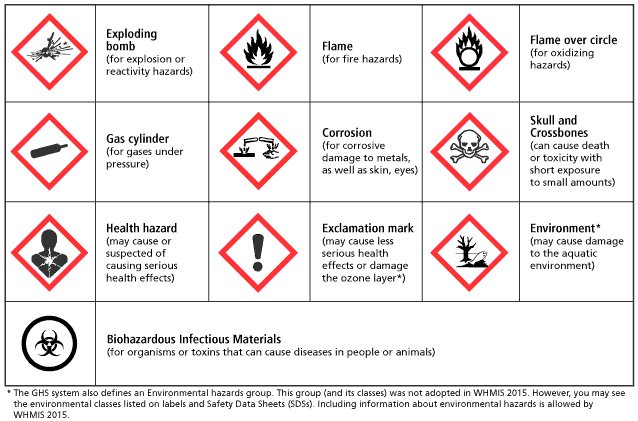 Consumer Labels

---
Hazardous Materials
---

---
Hazards in this category cause illness or infectious disease from exposure to hazardous substances such as viruses, bacteria, or moulds (fungi).
Some examples include:
Asbestos
Lead
Mercury
Silica
Mould / Fungi
Animal droppings
Sewage
Bodily fluids
PCB's
CFC's
Radioactive materials
---
Confined Space
---

---
If you are dealing with a confined space, know that special precautions have to be taken. WorkSafeBC has specific guidelines and procedures that must be followed.
Attics and crawlspaces are two of the more common restoration jobsite situations where a confined space hazard may exist. See the WorkSafeBC OHS Regulation - Part 9 (WorkSafeBC website) on confined space.
For more information, visit WorkSafeBC's Confined Spaces website (WorkSafeBC website)

Important:
If you are not sure whether you are dealing with a confined space, contact your supervisor.
Did you know?
The top reasons workers die in confined spaces include:
They have inadequate training to recognize a confined space and the hazards that may be present.
They assume that their senses will notice a toxic atmosphere and do not realize it's usually invisible, tasteless and odourless.
They are "only going in for a minute".
They are unaware or forget to watch for hazards that develop while working in a confined space.
They attempt to rescue co-workers in trouble but are not properly trained and equipped to do so.