---
---
---
Guide Sections:
---
Controls Required
---

---
Always correct any hazardous situations you find. The Controls Required section on the SSA form lists the 5 most common ways to correct a situation. Once the control required is determined, it must be communicated to workers.
The controls are:
1. Eliminate the hazard (Elimination)
2. Isolate / safeguard the hazard (Substitution)
3. Apply engineering controls (Engineering)
4. Develop safe work procedures (Administrative)
5. Use personal protective equipment (PPE)
The controls are ordered 1 to 5. Use these numbers on the SSA form to indicate what type of control you will use to correct the situation.
The numbers indicate the preferred choice for the type of control, with 1 being the best option.
This ranking is also known as the hierarchy of control.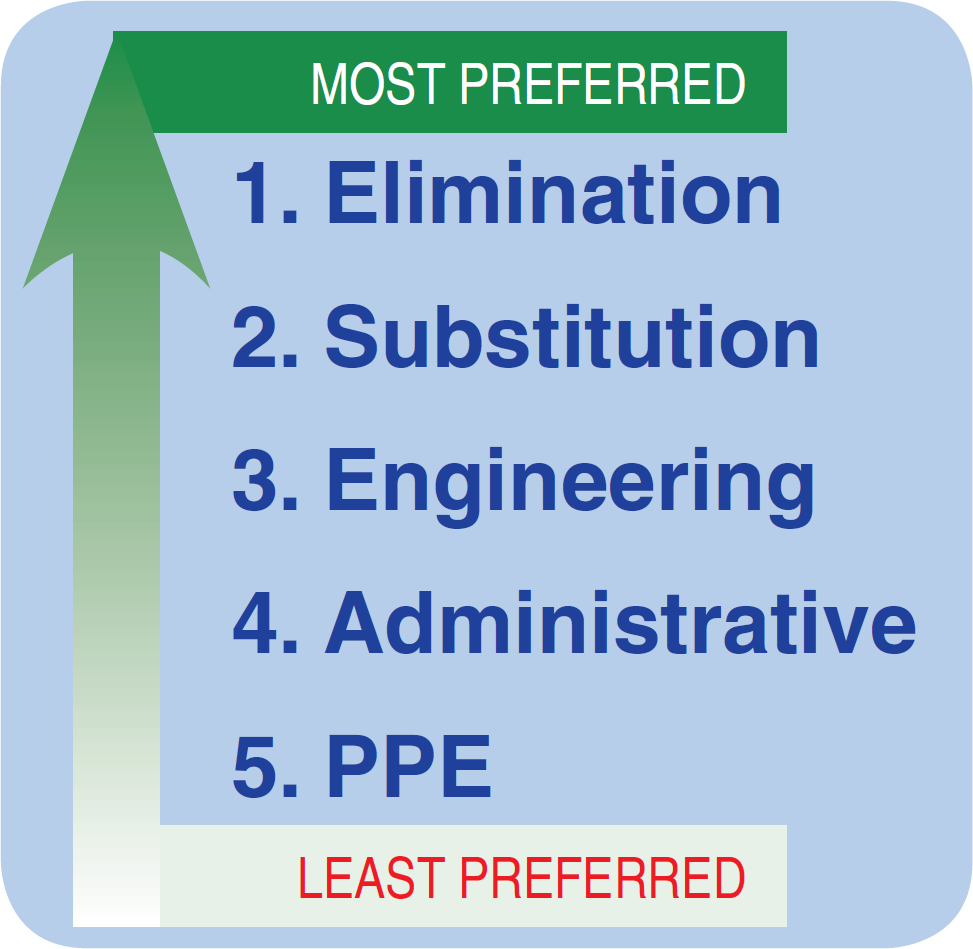 ---
Hierarchy of Control
Here are some examples of control steps you might take:
Elimination - Rather than leaving power cords on the floor where people walk, run them along a wall or other out-of-the-way locations (therefore eliminating the trip hazard); remove mould/sewage waste before other work occurs.
Isolate/safeguard hazard - Use enclosures and shields to prevent the release of materials into the workplace and to prevent worker contact with the hazard.
Engineering controls - Ventilation (using fans and air extraction systems to remove contaminated air), or minimize noise exposure by isolating noise sources.
Safe work procedures - Use administrative controls to manage who, where, when, and how jobs are done. These controls can include training and signage.
Personal protective equipment (PPE) - Workers are protected by wearing eye, face, ear, respiratory, hand or foot protection, or protective clothing (e.g. high visibility).


Elimination is best. When jobsite conditions require, proper use of PPE is critically important.